CT State Agencies urge Asian Americans and other communities of Color to get vaccinated. (PSA) features CT Elected and Appointed State Officials in an effort to reassure communities about the safety and the necessity of getting vaccinated.
Watch Video
.
---
Over the past few months, the Commission has been working closely with the Division of Emergency Management and Homeland Security to improve communication and vital information dissemination regarding COVID-19 to linguistically, culturally, geographically and otherwise diverse residents in the state. Click on the link to find a variety of print materials like vaccine fact sheets, flyers, posters, and palm cards that can support your outreach and education programs. Some tool kits also include digital assets that may be helpful for you on social media. COVID-19 Print Materials Library
---
FBI – Federal Bureau of Investigation and CT State Police Public Service Announcement
The FBI's New Haven Division and Connecticut State Police released a public service announcement asking victims of hate crimes to report it. Speakers include Special Agent Sean Yan, Connecticut Attorney General William Tong, forensic expert Dr. Henry Lee, Connecticut State Trooper First Class Luke Larue, and David Sundberg, special agent in charge of the FBI in Connecticut. Click below to view the video….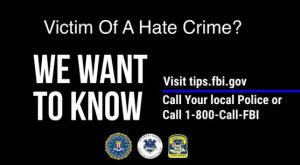 ---
Senate passes hate crime bill responding to wave of violence against Asian Americans
"By passing this bill, the senate makes it very clear that hate and discrimination against any group has no place in America. Bigotry against one is bigotry against all."
Click here for more information.
---
The Connecticut General Assembly's Commission on Women, Children, Seniors, Equity, and Opportunity (CWCSEO) joins State Leaders Condemning Recent Hate Crimes Against Asian Americans.
 The CWCSEO, for the record, engages and advises policy makers regarding equity issues impacting women, children, & seniors along with a focus on Latino/Puerto Rican, African American & Asian Pacific American families living in the State of Connecticut.
"We applaud Governor Lamont and Legislative leaders for condemning hate crimes targeting Asian Americans and implore current and future leaders to unequivocally and unconditionally reject and condemn hate speech, hate crimes, bigotry, and behaviors that promote discrimination and violence." – Steven Hernández, CWCSEO Executive Director 
"On behalf of the Commission, I want to remind everyone in Connecticut and nationally that hate has no place in our State or our Country, or for that matter, this planet. What I want to make clear is that we are all Americans – Divided we fall, and together we thrive. Together we will get through COVID-19. It does not help any of us to divide us, and I want to stress what happened in Atlanta is sickening and it is our job as leaders of our communities and government not just to condemn, but to make sure that such violent acts never happen in Connecticut or anywhere else for that matter." (Continue Reading)….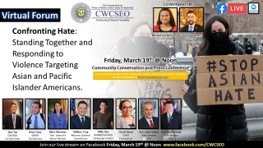 (Click above to watch the Forum)

Confronting Hate:
Standing Together and Responding to Violence Targeting Asian and Pacific Islander Americans.
A community conversation addressing the increasing hate crimes/discrimination against Asian Americans and Pacific Islanders (AAPI) communities.
---
UPCOMING EVENTS AND INFORMATION
Join CAPABA on March 31st for a panel discussion titled: Stand Up, Speak Out, Be Seen: Moving From Violence to Equity & Inclusion for Asian and Pacific Islander Americans.  Flyer and Details.
Join a roundtable event on April 8th hosted by UConn Law School. Members from the Connecticut legal community will come together for dialogue, education, and personal reflections.
#IAMNOTAVIRUS — An artist led initiative working to dismantle racism by guiding individuals to explore their personal stories. www.iamnotavirus.info
#MakeUsVisible — An initiative to support senate legislation (S.B. No. 678) to include Asian Pacific American studies in Connecticut high school social studies curriculum.
www.facebook.com/MakeUsVisibleCT,  bipartisan support introduced by Senators Saud Anwar, Tony Hwang, Cathy Osten, and Derek Slap, which mandates the inclusion of Asian Pacific American studies as part of the Connecticut social studies curriculum.   (2021SB-00678-R00-SB.PDF (ct.gov)
Visit Stop AAPI Hate at https://stopaapihate.org/
National Asian Pacific American Bar Association's hate-crime reporting and resource page at https://www.napaba.org/page/HateCrimeResources.
Support the legislation proposed by United States Representative Grace Meng (NY-06), First Vice Chair of the Congressional Asian Pacific American Caucus (CAPAC), and United States Senator Mazie K. Hirono (D-HI), Executive Board Member of CAPAC to reintroduce the COVID-19 Hate Crimes Act, which seeks to address the ongoing hate and violence targeted toward Asian Americans and Pacific Islanders by providing greater assistance with law enforcement response to COVID-19 hate crimes and by creating a position at the Department of Justice to facilitate expedited review of such cases. (https://www.congress.gov/bill/116th-congress/house-bill/6721)
---
Coronavirus Anti-AAPI Racism Incident Report
Anti-AAPI Racism Incident Report Form
The world has been hit by what the World Health Organization (WHO) is calling a "global pandemic." As the virus COVID-19 spreads, numerous Asian Americans and Pacific Islanders (AAPI) have reported experiencing microaggressions, racial profiling, hate incidents and in some cases, hate violence.
Asian Pacific Policy and Planning Council (A3PCON) and Chinese for Affirmative Action (CAA) have launched this reporting center to allow community members to report incidents of hate they have experienced. Individual information, including personal identification details, will be kept confidential and will only be shared with permission.  In the aggregate, the information will be used for assistance, advocacy and education.
We are working to translate this form into additional languages. We ask for your patience as we add them to this site.
Unfortunately, we cannot respond to all submissions. If the matter is urgent, please CALL 911.
---
SOLIDARITY DURING COVID-19
Supporting Our Asian American and Pacific Islander Neighbors
The Commission helped organize a first-of-its-kind virtual press conference, discussing recent threats, intimidation and attacks against members of the Asian and Pacific Islander community in Connecticut related to the COVID-19 crisis. You may access the virtual event at the following:
CT-N: http://ct-n.com/ctnplayer.asp?odID=17279  or via CWCSEO Facebook: https://www.facebook.com/commission.equity.opportunity/videos/2955693004451666/.
As a result of the press conference and our previous Statement of Unity, we are providing a quick resource for your communities and for parents. Please find what we hope is a helpful infographic (SOLIDARITY DURING COVID-19 – Supporting Our Asian American and Pacific Islander Neighbors).
We also providing an online teaching tool to help parents with talking to their kids about preventing and responding to prejudice called Beyond the Golden Rule.  Click the title or on the picture of the book to head to their site.