Women's Sub Commission
The Women's Sub Commission focuses its efforts on issues affecting constituencies of underrepresented and underserved Women by improving and promoting the economic development, education, health and political well-being of women in the community. The Sub Commission partners with local, state and national organizations, to inform public policy and involve underserved women in the legislative process.  Priority Areas:
Enhance women's economic security through leadership development and such family-friendly workplace policies as paid family leave and pay equity;
Ensure wellness throughout the lifespan, including access to the full range of reproductive healthcare; and
Eliminate gender-based discrimination in the workplace and in government.
---
"The Economic Impact of COVID-19 on Connecticut's Women"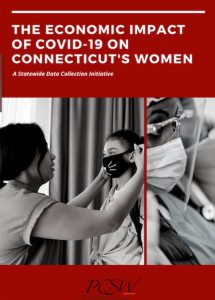 We are pleased to share with you the data report of "The Economic Impact of COVID-19 on Connecticut's Women" that the Permanent Commission on the Status of Women in Connecticut launched.  PCSW surveyed over 1,000 women and collected thousands of pieces of data on categories such as work and pay, housing and food security, healthcare and health, personal safety, and education.
26.5% were furloughed or lost their jobs
66.1% of those with dependent children experienced an impairment of their ability to work due to home demands (lack of childcare, children in remote school)
49.8% reported a negative mental health impact from COVID-19
14.1% were in a domestic violence situation, which for 49.8% developed or got worse due to COVID-19
Please see the executive summary and visit this link https://www.pcswct.org/covid-report to download the full report.
---
WOMEN'S HISTORY MONTH 2021

To celebrate Women's History Month, during the month of March the Women's Sub Commission  will highlight and present several extraordinary women with a SHero Award. These are women that have been nominated by community partners and/or legislators for demonstrating leadership in their communities during COVID-19. They have made a significant contribution to our state's COVID response by helping to mitigate its harmful impacts during this tumultuous time in Connecticut. Meet our SHeros:
---
Connecticut's Corridors of Corruption
Disclaimer: Series 2 of this program contains foul language around sex trafficking that may be objectionable to some,
and may not be suitable for a younger audience. Parental supervision and viewer discretion is advised.
We are proud to join state, federal and local advocates and law enforcement to end the scourge of human trafficking in the state of Connecticut. Human trafficking is modern day slavery. It is critical that the we do everything we can to demystify human trafficking and highlight the lasting trauma it inflicts on individuals and communities. Series 1 of Corridors of Corruption, will first give the public an unvarnished and compelling view into the life of one human trafficking survivor; sadly, her story is shocking, but typical. In Series 2, advocates share resources to help communities address human trafficking, from liberation to independence.
---
National Human Trafficking Hotline Poster
The HHS Look Beneath the Surface campaign works with grantees and partners to raise awareness of human trafficking and the factors that make certain populations more at risk. The campaign empowers health care providers and faith-based and community organizations to help identify individuals who may be experiencing trafficking and connect them with services by calling the National Human Trafficking Hotlinevisit disclaimer page at 888-373-7888.
Human Trafficking Police Reporting
Pursuant to Public Act 16-71 each state's attorney and each municipal chief of police are annually required to report by October 1st of each year to the Commission and the Trafficking in Person's Council. Data and information provided shall be pursuant to the mentioned section should be for the twelve-month period of the year.  Click here Human Trafficking Police Reporting Form to complete and submit your information.
We would like to thank you for the work that you do every day to combat the scourge of human trafficking.
---
Women's Sub Commission Board Members:
Helene Shay
Joan Barere
Heidi Lubetkin
Antonia Moran
Women's Sub Commission Resources Below: