Education
research guide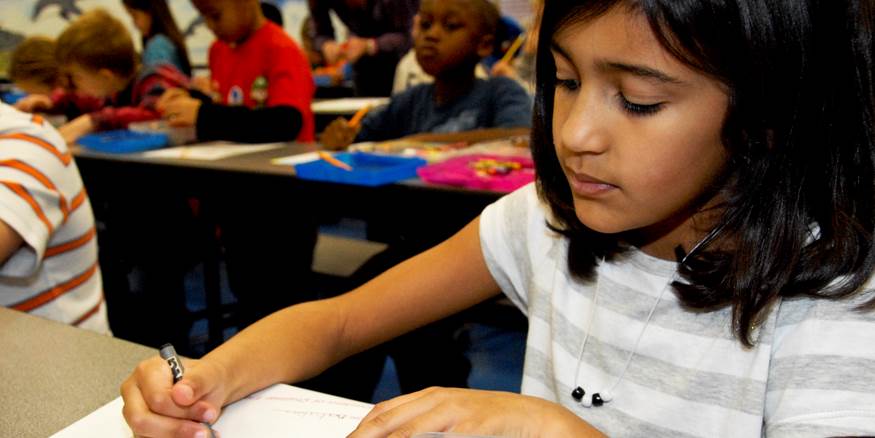 For OLR Reports and other materials related to the Education Committee's work, index headings include:
Education-(subtopic folders for Adult, Bilingual, Boards of, Choice Programs, CT Dept. of, Desegregation, Discipline, Finance, Head Start, Regional, Special, Special-Finance, Testing, and Vocational/Technical)

Education Commission Of The States

Educational Guidance

Educational Law And Legislation

School Administrators

School Attendance

School Employees

Schools-(subtopic folders for Construction, Health, Private, Transportation, Violence)

Teachers-(subtopic folders for Certification and Evaluation, Compensation, Labor Negotiations, Retirement)
The library assigns topical index headings to all OLR Reports and keeps hard copies of the reports organized by these index headings. Reports from 1994 to the present are in the library's file cabinets (aka the "vertical files") in the red-tabbed folders, as well as online in full text. Older reports are in two sets of bound volumes (one set for the 1970s, and one for 1980-1993) on the library's shelves.
The same index headings the library uses for OLR Reports have been used to organize over 600 subject files of materials such as newspaper clippings, court decisions, press releases, pamphlets, and other resources that would be more difficult to locate if they were dispersed throughout the library's general collection. The subject files are in the blue-tabbed folders in the file cabinets. (Many of the items in these folders have also been digitized by the library, and their electronic versions can be found in the library's intranet catalog.)
The Condition of Education – annual report by the National Center for Education Statistics
Indicators of School Crime and Safety – annual report the National Center for Education Statistics
Practical Guide to Connecticut School Law, 9th ed. – by Thomas Mooney, 2018
Revenues and Expenditures for Public Elementary and Secondary Education – annual report by the National Center for Education Statistics
For the past several years, almost all newly published items added to the library's collection have been in electronic format only. These items are accessible in full text through the library's intranet catalog. Many old print materials have also been digitized and uploaded to the library's catalog.
To get a general sense of a subject's history, however, you may find it useful to browse the library stacks in certain locations to see print copies of older publications (and the occasional newer item that was published both electronically and in print). For publications related to education, call number ranges include, but are not limited to:
370 education
371 schools and their activities; special education
372 elementary education
373 secondary education
375 curricula
379 public policy issues in education
Hard copies of mandated reports that were produced only once or as a limited series are shelved by the number of the act that required the report. Hard copies of mandated reports produced regularly with no set end date (for example, state agencies' annual reports) are shelved in the stacks by subject.
Chronic absence patterns and prediction during Covid-19: insights from ConnecticutChronic absence patterns and prediction during Covid-19: insights from Connecticut – by Attendance Works and the Dept. of Education, 2021
Connecticut Coalition for Justice in Education Funding (CCJEF) et al. v. Rell et al. – various documents relating to the court case that began in 2005
An evaluation of the effectiveness of home visits for re-engaging students who were chronically absent in the era of COVID-19An evaluation of the effectiveness of home visits for re-engaging students who were chronically absent in the era of COVID-19 – by the Center for Connecticut Education Research Collaboration (CCERC), 2022
Hartford region public school choice programsHartford region public school choice programs – by the Office of Program Review and Investigations, 2016
The LEAP effect: taking a systemic approach to improving attendance and engagement: lessons learned from Connecticut's Learner Engagement and Attendance Program (LEAP)The LEAP effect: taking a systemic approach to improving attendance and engagement: lessons learned from Connecticut's Learner Engagement and Attendance Program (LEAP) – published by the Dept. of Education, 2023
Performance audit: Farm-to-School Program FY2019, FY2020, and FY2021Performance audit: Farm-to-School Program FY2019, FY2020, and FY2021 – by the Auditors of Public Accounts, 2023
Private providers of special education – periodic report by the Auditors of Public Accounts
Regional cooperation between local boards of educationRegional cooperation between local boards of education – by the Office of Program Review and Investigations, 2015
Sheff v. O'Neill – various documents relating to the court case that began in 1989
State educational technology goals and plan 2017-2022State educational technology goals and plan 2017-2022 – by the CT Commission for Educational Technology, 2017
Statewide summative assessment report – annual report by the state Dept. of Education