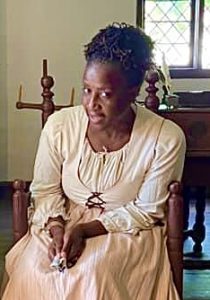 Storyteller Tammy Denease has spent her life inhabiting "hidden figures" from history and bringing them to life on stage. This year, she will work her magic for the Connecticut Freedom Trail, a collection of over 160 historic sites across the state that each figured in some way in the struggle of the state's African American community toward freedom. While the Trail has existed since 1995, its charms are not broadly recognized. Tammy has begun to recruit new sites to join the Trail, and aims to spread the message to private homeowners that federal tax credits are available for the renovation of historically significant buildings.
The Connecticut Freedom Trail was established in 1995, and includes a wide range of public spaces, private homes, monuments, churches, museums, cemeteries and more. In 2021, the Connecticut Democracy Center contracted with The Connecticut Department of Economic Community Development and State Historic Preservation Office to oversee and revamp the Trail, and brought in Ms Denease to helm the project.
Tammy Denease, a historian and a Certified Interpretative Guide known for her vivid portrayals of "forgotten women" like Bessie Coleman (the first internationally licensed pilot in the world) and Elizabeth Keckly (a former enslaved woman who worked at Lincoln's White House), is also the executive director of Hidden Women, LLC, a company that produces historical plays about hidden historical figures. Ms Denease will develop a new website for the Connecticut Freedom Trail, along with educational programming that will improve access to Trail sites and their stories.