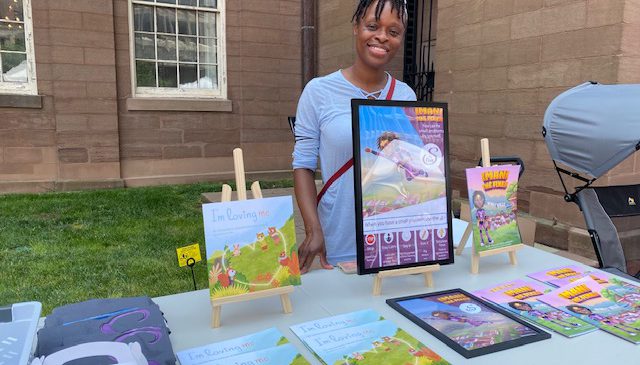 With a pandemic interrupting their education, and violence and political arguments consuming the news, it's understandable that today's children are struggling to manage stress. For author Dr. Clarissa Henry-Adekanbi, the solution is a charming superhero named Imani, the main character of her new children's book, "Imani the Fixer."
This kind and level-headed heroine shares her simple technique for managing small problems with the children of Henryville, giving them the tools they need to take care of stressful situations independently. The Five S's include:
Stop, check feelings
Stay calm
Say the problem
Size it
Solution time
Dr. Henry-Adekanbi has distilled 20+ years of experience as an educator, school psychologist and mother of three children into these simple, easy-to-remember messages, complemented by charming and colorful illustrations by Baba Aminu Mustapha featuring an array of diverse characters.
Perfect for educators, children and their families, "Imani the Fixer" is one of two practical social-emotional skill building resources from Henry and Jeffers Publishing. Dr. Henry-Adekanbi's second book, "I'm Loving Me," highlights a host of heartwarming, positive messages that children can repeat to themselves to build self-esteem and confidence. Inspired by a poem written by the author's brother, David Henry II, this sweet story follows five animal friends and the affirming messages their village heaps upon them.
"As I met with students remotely throughout the pandemic, I could see an increase in their needs. The small problems were piling up and they didn't have the tools to fix them yet," Dr. Henry-Adekanbi recalls. "It was hard to find resources that focused on the message I wanted to share, nor anything that reflected the diversity of my students, so I decided to write my own."
Dr. Henry-Adekanbi launched Henry and Jeffers Publishing to share her practical works with families and educators, and has received universally positive feedback. Her next book will feature a main character with ADHD, inspired by her youngest son, and will help children learn to turn their impulsive traits into superpowers.
You can find "Imani the Fixer" and "I'm Loving Me" on Amazon, and at local vendor marketplaces in the Hartford, Connecticut area, including the weekly Farmers Markets at Connecticut's Old State House.