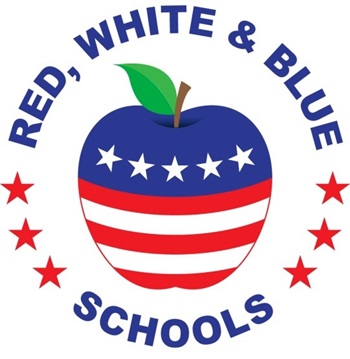 Frequently Asked Questions
1. What is the Red, White, and Blue Schools Initiative?  
The Red, White, and Blue Schools Initiative, founded in 2016, is a partnership between the Connecticut Secretary of the State, the Connecticut State Department of Education and the Connecticut Democracy Center at the Old State House. Its purpose is to recognize schools that go above and beyond the minimum requirements when teaching civics. By participating in this program, schools are promoting being active and engaged members of their communities.   
2. Why is this program important? 
Research has demonstrated that the greater exposure to civic education a student experiences throughout their academic careers the higher the probability of them becoming more engaged and active members of their communities throughout their lives.  
3. What are the requirements for program participation? 
The requirements for this program vary slightly whether the students are in K-5 or 6-12th grade. The K-5th grade level needs to have at least one project where students collaborate with school and community partners. There should be evidence of at least one or more examples of specific engagement with school and outside partners. Students should also bridge connections from the past to the present when exploring this year's theme–in their modern community and/or in family or personal relationships.  
For the 6th-12th grade students, we require one or more student-centered hands-on learning experiences.  Students are expected to analyze significant components of the theme. We also expect students in upper levels to participate in after-school activities that tie into what they are learning in the classrooms. Students should be able to complete a detailed project about the theme. For a more comprehensive overview of each grade level's requirements, please refer to the K-5 and 6-12 grade rubrics located on our website.  
4. Is the entire school system or district required to participate?  
There is no requirement for entire school districts or systems to participate. We only ask that at least one educator from a school join the program. There is an additional requirement to hold at least one school-wide event. For further information about requirements, please refer to the rubrics on our website.  
5. How can I still participate if I have limited instruction time and resources?  
The Red, White, and Blue Schools program provides information and resources for educators through its website and partnerships. These sources are available for use throughout the academic year for both students and educators. Our resources include lesson plan ideas, interactive games, and informative videos. Moreover, our partnerships with scholarly sources allow us to have a wide range of content suitable for all ages and grade levels.  
We want to recognize your school! If you are having difficulty locating resources, navigating the rubrics or identifying partner organizations, please reach out to us.  Our contact us page contains email addresses for each of the three partner organizations.  We will work with individual educators to help you meet the criteria for recognition. 
6. What are some incentives for program participation?  
Schools that meet the rubric's minimum criteria will be recognized as official Red, White and Blue Schools at the end of the school year for their outstanding commitment and dedication to civic education and engagement. They will receive certificates from the program celebrating their dedication to educating our students. In addition, schools that completed the program can display on their websites and other materials that they are recognized as Red, White, and Blue schools.  A press release announces this recognition and is often covered by the media.  Outstanding schools are featured in the end-of-year ceremony.  Students and teachers give a presentation about their projects and receive special plaques that can be displayed in their schools

7. What are some examples of successful participants? 
Ridgefield High School 2021-2022 
Fairfield Warde High School 2021-2022 
South Windsor Public Schools 2021-2022 
8. Where can I find more information if I am interested in participating?  
Please explore our website to learn more about this year's program theme, as well as available resources for both lesson-planning materials and potential community partners. In addition, by signing up for our mailing list, you will receive additional information about the program throughout the school year as it develops.  
For further questions on educational resources, please contact Stephen Armstrong at stephen.armstrong@ct.gov.    
For other inquiries concerning community partners, please contact Tina Prakash at tina.prakash@ct.gov.   
For additional resources, please contact Sally Whipple at sally.whipple@cga.ct.gov.  
9. What is the importance of teaching about founding documents of government as part of this year's theme?  
Our country is a rich fabric of diverse cultures, religions and traditions.  Founding documents are the result of great debate among people of differing beliefs.  They define our society and the set of rules by which we are governed.  The people of the United States, of Connecticut, and of each of our 169 towns and cities give their consent to be governed by these core documents.