Rent Connecticut's Old State House
Connecticut's Old State House is available to rent for meetings, celebrations and other private events for up to 230 people.
Our elegant, historic building provides a unique backdrop for seated or cocktail-style weddings, showers, parties, fashion shows, conferences, lectures, presentations and more.
Choose some or all of our beautiful spaces, from intimate historic offices that seat 25, to stunning ballroom-style spaces that accommodate 110 seated or 230 standing guests. Our charming fenced lawn is also available for your use.
Authentic and Inspiring
Let the unique, historic backdrop of Connecticut's Old State House set the tone for your classic affair. The grand and graceful spaces are certain to amplify your creative spark as you plan an exceptional and memorable event.
The Old State House is available for rental after the Museum closes to the public at 5:00 p.m. Tuesday through Saturday, and any time on Sundays and Mondays. Occasional special exceptions may be available at other times.
A number of tables and chairs are available for your use, or you may prefer to rent furnishings from an outside source.  The Old State House maintains a list of preferred caterers; if your favorite is not already on the list, you may submit their information for approval before your event.
The Great Hall

Upon entering Connecticut's Old State House, guests are greeted with this gorgeous double staircase. Whether you choose to hold a standing cocktail reception, tables for casual conversation, or you simply use the foyer for tables of welcome refreshments or print materials, the Great Hall provides a dazzling start to your event.
Capacity: 115 standing,  57 seated
The Courtroom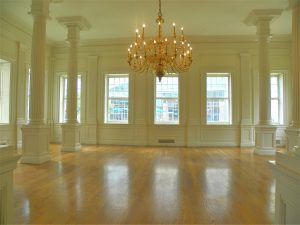 The stunning Courtroom brings to mind the lovely ballrooms of days gone by.  Dance the night away in ballgowns and tails, set up a stage and rows of seating for a unique presentation space, or fill the floor with bistro tables to mimic a charming restaurant or conversational cafe.
Capacity: 230 standing,  110 seated
The Legislative Hall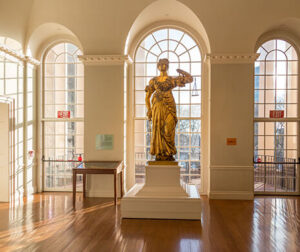 Framed by exquisite windows overlooking the lawn, and watched over by the Statue of Justice, the second floor foyer provides another bright and unique space.  Flanking the foyer are doors leading to the Senate Chamber and the Hall of the House of Representatives on either side.
Capacity: 87 standing,  25 seated
The Treasurer's Office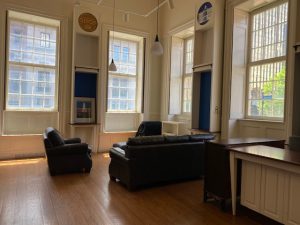 The high ceilings and splendid 12-over-12 windows make the Treasurer's Office an impressive location for small dinners, meetings or casual gatherings. The current seating-area furnishings may be used as they are, or moved out in favor of tables and chairs of various sizes (included in the rental fee).
Capacity: 50 standing,  23 seated
The Comptroller's Office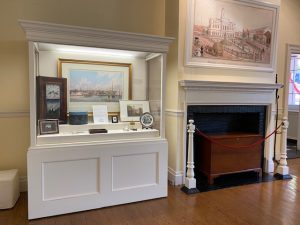 This spacious square chamber, featuring an original fireplace and a compelling exhibit display case, works well for small lectures, meetings or casual gatherings.
Capacity: 85 standing,  40 seated
The Mortensen Gallery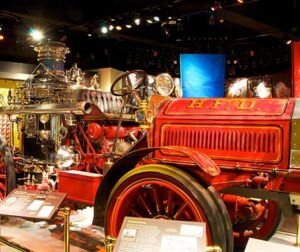 Hold your event amongst the bold and fascinating exhibits on the ground floor featuring Hartford's role in history.
Capacity: 50 standing,  50 seated
The Old State House Lawn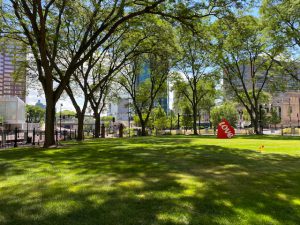 Enjoy an urban oasis in the park-like setting of the Old State House lawn. You may choose to set up tents, or just savor the sunshine and stunning views of downtown.
Capacity: 200 standing
Facility Rental Details
Rental rates include an event coordinator, the use of the Old State House's folding tables, chairs and audio/visual equipment, and a cleaning service following your event.  Rates also include the services of two security personnel for the duration of your event.  Additional security at your cost will be required for events of over 100 guests, or events at which alcohol is served.
Food and drink are not allowed in certain rooms, including the Senate and House chambers, and the Museum of Curiosities. Exhibitions may not be rearranged, and items may not be affixed to the walls.
Off-site parking is available at parking garages in close proximity to the OSH at a discounted rate. Valet services may also be available.