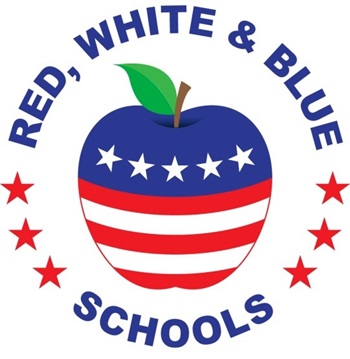 Red, White & Blue Schools recognizes K-12 public and private schools that are going above and beyond in their delivery of civic education.  In order to qualify, at least one class in a school must meet the minimum standards as displayed in the program rubrics.  Whole school systems may be recognized if elementary, middle and high school classes participate. 
Two designations exist. Any school or system that meets the rubric standards will be designated as an official Red, White and Blue School for that year.  Additionally, up to three submissions will be recognized as outstanding programs each academic year.  Click here for a list of Red, White and Blue Schools from years past. 
This year's theme is founding documents of government.  A kickoff is held each year providing an overview of the program, its requirements and the year's theme.  View the 2022-2023 kickoff here.  Schools may begin participating at any point during the school year prior to the submission deadline of early April. For more information about Red, White & Blue Schools, check out our FAQ. 
Teachers, join us on Tuesday, February 7, 2023 at 3:30 p.m. for a live webinar on Connecticut's Founding Documents, presented by the Connecticut State Library.  Click here to register today!  Click here for additional teacher resources for this year's theme. 
Teachers, school administrators, partner organizations: Click here to sign up for our mailing list. Be the first to learn about upcoming workshops, webinars, additional resources, and other Red, White & Blue news!