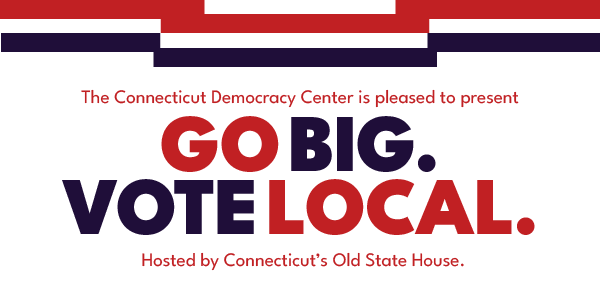 Little things (LIKE ONE VOTE) can have a BIG impact on an election. Connecticut's Old State House brings you a season full of little things – like cartoons, conversations and cake – to help you make a BIG impact locally this election season.
Join us for these special events scheduled thru November 2023:
Running for Office: Candidates, Campaigns, and the Cartoons of Clifford Berryman
Friday, September 8 – Wednesday, November 13
Election season in the modern era elicits a barrage of amusing and pointed memes – but historically, editorial cartoons have swayed opinions and helped shape elections for generations! Clifford Berryman, a Pulitzer Prize-winning cartoonist with The Washington Star and The Washington Post, produced almost daily cartoons for over 50 years – from 1896 to 1949.
Unlike any other form of political commentary, cartoons show altered physical traits and highlight minute details to make a specific point. With simple pen strokes, they foreshadow the future, poke fun at the past, and imply hidden motives in ways that elude written or spoken reporting. This unique exhibit features a series of pen & ink drawings to highlight the timeless aspects of US campaigns and election processes. Election seasons bring memes – but editorial cartoons have helped shape elections for generations! Clifford Barryman produced almost daily cartoons for more than 50 years – from 1896 to 1949. This exhibit uses a small fraction of his pen & ink drawings to highlight the timeless aspects of US campaigns and election processes. 
Running for Office was created by the National Archives with the support of the Foundation for the National Archives and organized for travel by Humanities Texas, a state affiliate of the National Endowment for the Humanities.

Before the Meme: A History of Political Cartoons
Join historian Dr. Matthew Warshauer, History Professor at Central Connecticut State University, as he explores the history of political cartoons in Connecticut and the United States. Gain insight into the role political cartooning played in representing the will of the people during the American Revolution, the ratification of the American Constitution and after the Civil War. 
Professor Warshauer serves as the co-chair of the Connecticut Civil War Commemoration Committee, which develops programs and events commemorating the war's sesquicentennial. The author of five books, he is a specialist on 19th century political ad constitutional history.
Voter Registration Celebration at Connecticut's Old State House
Tuesday, September 19 from 12:00 PM to 4:00 PM
Those registering to vote or checking their registration status will be offered FREE admission to Connecticut's Old  State House.

September 19 is National Voter Registration Day! Hartford is gearing up to elect a new mayor this November. But that's not the only choice on the ballot! Local elections never get as much attention – or as many voters – as the bigger federal races, even though local policies impact our daily lives. From urban planning and schools to housing and food access, city and town governments, voters LIKE YOU can drive important policy decisions simply by taking part in local elections. To learn more about about how the government in Hartford works and what exactly is on the ballot, join us for some festivities AND important conversations about why your vote matters:
Voter Registration
12:00 Noon – 4:00 PM

Outdoor Concert with IGuru
12 Noon – 12:45 PM
The Biggest Impact: Why We Should Care About Local Elections 
1:00 PM to 2:00 PM
Featured Speakers:
Tanya Rhodes Smith, Director, Nancy A Humphreys Institute for Political Social Work
Kristen Clark, Coordinator, Governor's Task Force on Justice For Abused Children and Public Policy and Advocacy
Outdoor Concert with I Guru
2:00 PM to 2:45 PM

Ballot Break & Coffee
3:00 PM to 4:00 PM
Join our friends from YWCA Hartford Region to learn more about what exactly will be on the November 2023 ballot and why your vote matters! 

The Voter Registration Celebration is made possible with the support of a voter engagement grant from the Hartford Foundation for Public Giving.
Let me Draw You a Picture: A Conversation with Bob Englehart
Saturday, October 21 at 1:00 PM
This event is FREE and open to the public. 
If a picture is worth a thousand words, how much is an editorial cartoon worth? Editorial cartoonists have been keeping us entertained and well informed for centuries. Their witty visual commentary can be powerful conversation starters, make us consider issues from new perspectives, or help us visualize what we were already thinking! Bob Englehart was the Hartford Courant's editorial cartoonist for 35 years, as well as a Pulitzer Prize finalist for the Editorial Cartoon category. His work played an integral part in how the public engage with Connecticut politics and news. Join CT's Old State House in conversation with Bob as we take a look at the state of political cartoons and other forms of artistic political expressions today. 
Election Cake Bake-Off 2023
November 4, 2023 from 1:00 – 4:00 pm
This event is FREE and open to the public. 

It's time for a celebration and some sweet competition! Join Connecticut's Old State House for the second annual Election Cake Bake-Off. Help us revive a long-lost Connecticut tradition that deserves a come back. In the 18th and 19th centuries Election Day combined voting with parties, libations, parades, and cake! Stores sold special Election Cake ingredients to women who transformed them into spicy cakes for crowds gathered to celebrate voting at the Old State House and other sites. 
Come sample cakes, observe celebrity judging, enjoy music, and gear up for voting on Tuesday, November 7th. Connecticut pastry chefs and bakers have been challenged to win over the taste buds of a panel of judges who will proclaim which confection shall be the official Connecticut Election Cake of 2023. Celebrity judges include:
Jenna D'Amico, 2022 Election Cake Bake-Off Winner
Alex P. Taylor, Senior Community Manager at Yelp Connecticut
David Milton, food reviewer for "thedamgram" on Instagram and "thedamtok" on TikTok.
How the contest works: Each competitor registering to compete will create a non-partisan, election-themed cake that they must be able to carry into the building by themselves, without assistance. Cakes will be judged  on presentation, creativity, and taste. Bakers can register for the competition HERE.
Caricature Workshop at CT's Old State House
Saturday, November 11 at 1:00 PM
This event if FREE and open to people ages 5 and up.

It's time to break out the brushes and colored pencils. Do you have something to say? Why not say it in a drawing? Caricatures are a fun and straightforward way to express your thoughts and opinions in an artistic way. Join us to create your own caricature masterpiece! Learn how to draw your own caricatures and explore your creativity in this introductory workshop at CT's Old State House! Materials and supplies will be provided. 
On-street parking around Connecticut's Old State is free on weekends. Garage parking at State House Square Garage, located at 55 Market Street, is available for $5 with validation. Admission to Connecticut's Old State House is $8 for adults and includes the exhibit "Running for Office: Candidates, Campaigns, and the Cartoons of Clifford Berryman." Discounts available for seniors, active military and veterans, college students, and children. Other events and activities associated with the "Go Big. Vote Local." Series are FREE and open to the public. For questions or accommodations, please call (860) 522-6766.